Unlocking Success in Cyber Security: The Red Team Cyber Security Certifications Path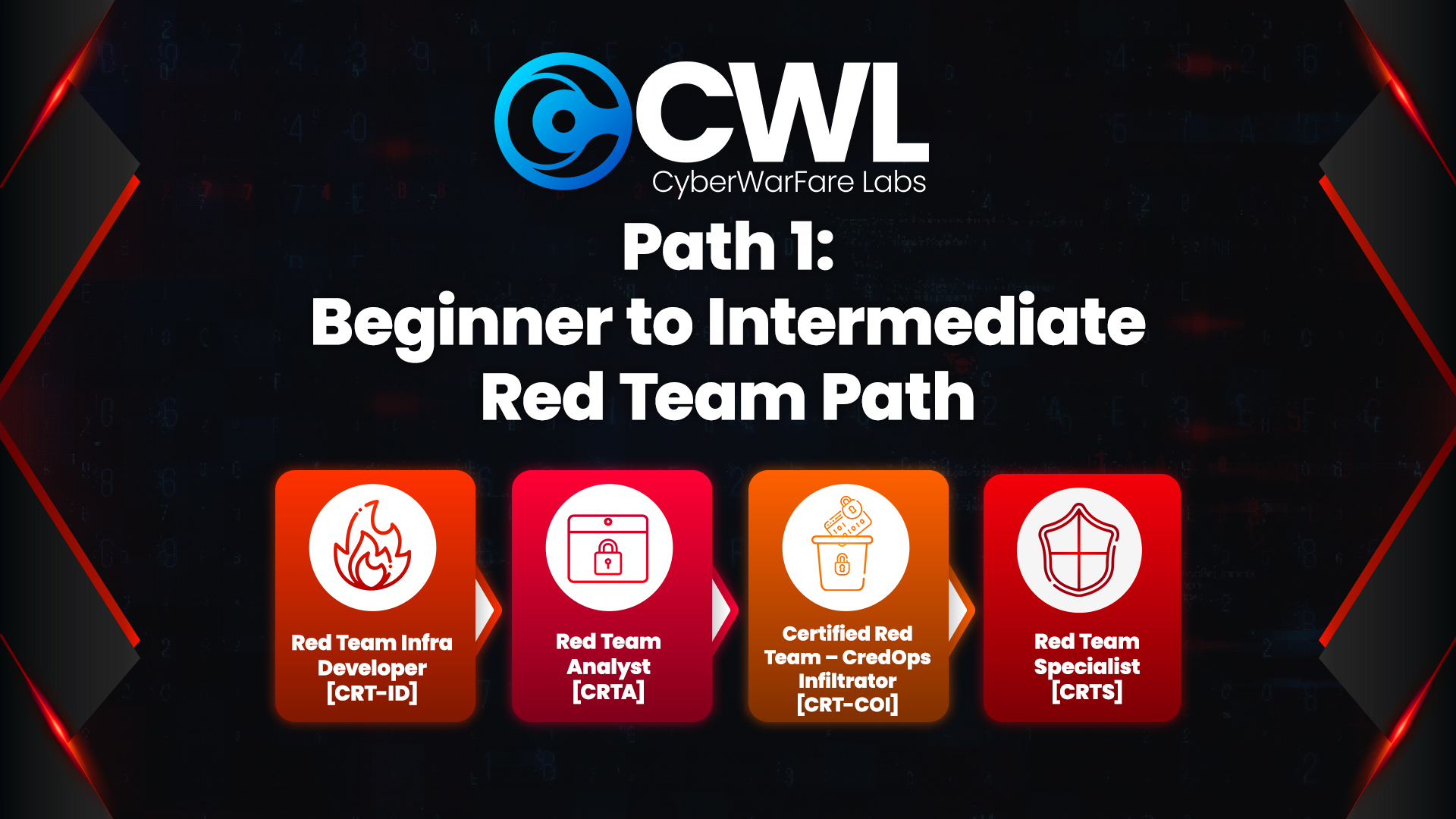 In the ever-evolving landscape of cybersecurity, staying ahead of the game is essential. As cyber threats become more sophisticated, organizations seek skilled professionals to defend their digital fortresses. Red teaming, a practice where security experts simulate cyberattacks to uncover vulnerabilities, plays a pivotal role in this defense.
This blog takes you on a journey through the Red Team Certification Path by Cyberwarfare Labs, a roadmap to becoming a proficient cyberwarrior. We will explore two paths – one for beginners to intermediates and another for those seeking more advanced challenges. Along the way, we will emphasize the significance of each certification and the value it brings to your cybersecurity career.
Path 1:
Beginner to Intermediate
Red Team Infra Developer [CRT-ID]
Starting with the fundamentals, the CRT-ID course equips you with essential knowledge in infrastructure development, setting the stage for your red teaming journey. Learn how to build and secure network environments.
Highlighted Benefits:
Technical support
Unlimited Exam Attempt + Digital Badge
Professional Red Team Case Study
60+ Pages PDF & 10+ Hrs HD Videos
Red Team Analyst [CRTA]
Next, the CRTA certification focuses on developing your analytical skills. Understand the methods attackers use and learn to analyze vulnerabilities from a red team perspective.
Highlighted Benefits:
30 Days Practice Lab
150+ Page PDF & 6+ hrs HD Videos
2 Exam Attempts + Digital Badge
Local Red Team Lab Setup Instructions
Red Team – CredOps Infiltrator [CRT-COI]
In this course, you dive deep into credential operations. CRT-COI teaches you how to infiltrate system credentials, manipulate security controls, and operate effectively as a red team member.
Highlighted Benefits:
Practical Scenarios + Exercises
200+ Pages PDF Materials & HD Videos
Accredible Verified Digital Certificate
Unlimited Exam Attempts
Red Team Specialist [CRTS]
As a CRTS, you become a seasoned professional. Master the art of penetration testing, environmental escapes, and advanced red team tactics. You are now ready to take on complex challenges in the cybersecurity domain like Web, Network, Active Directory, Docker Environment, and CI/CD Abuse with an excellent Nuclear Simulation storyline.
Highlighted Benefits:
30 Days Practice Lab
3 Unique Attack Paths
Simulate Nuclear Meltdown
Challenge Completion + Digital Badge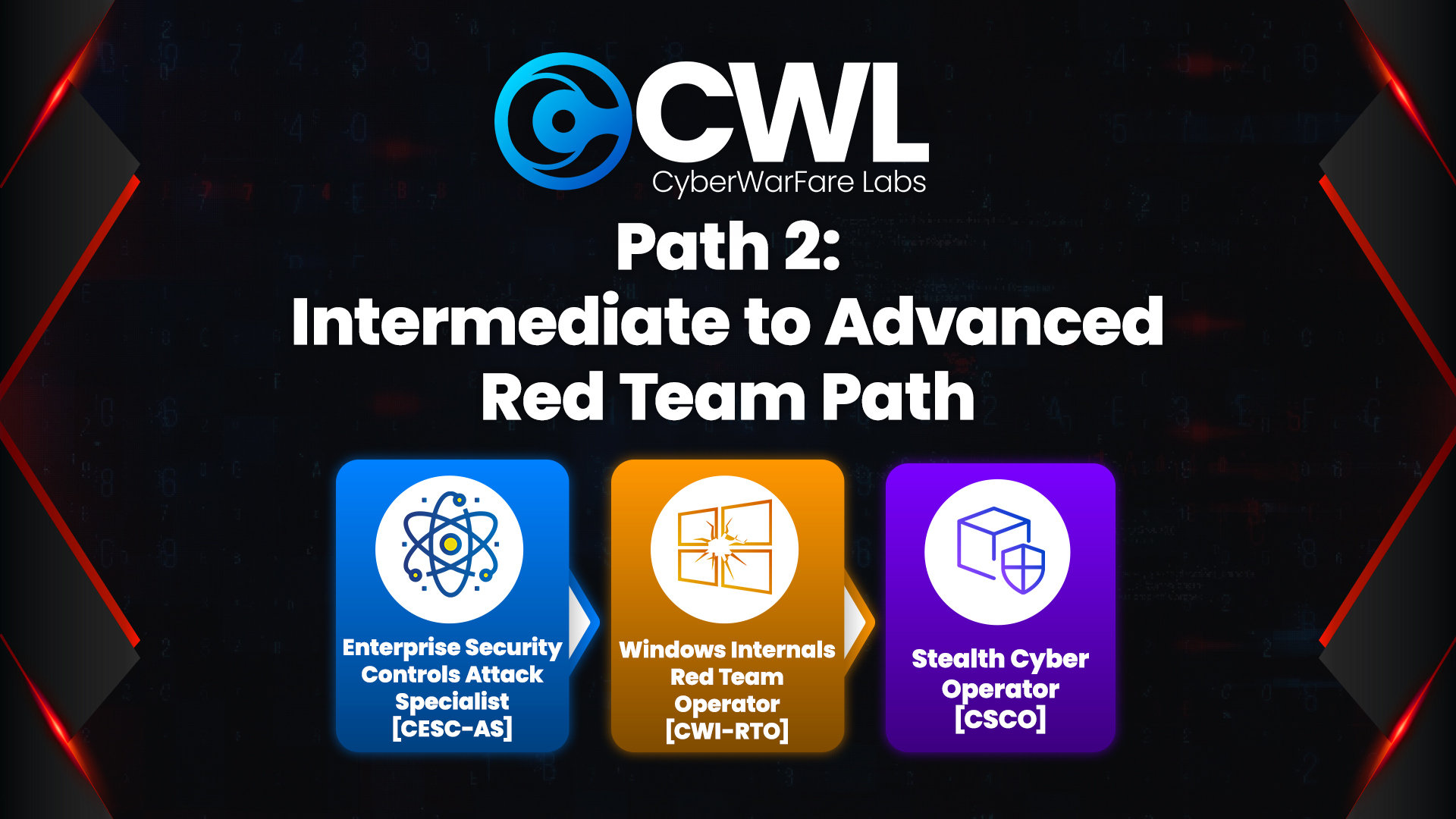 Path 2:
Intermediate to Advanced Red Team Path
Enterprise Security Controls Attack Specialist [CESC-AS]
For those seeking a more advanced path, the CESC-AS course is your gateway. It specialises in attacking enterprise-level security controls. Develop skills in evading defences and breaching fortified host & network based systems.
Highlighted Benefits:
30 Days Practice Lab
Instructions To Setup Controls
2 Exam Attempts + Digital Badge
250+ Page PDF & 12+ Hrs Videos
Windows Internals Red Team Operator [CWI-RTO]
Delve into the depths of Windows internals with CWI-RTO. Understand the intricacies of Windows operating systems and exploit vulnerabilities at the core level.
Highlighted Benefits:
30 Days Practice Lab
Customised Debug Machine
2 Exam Attempt + Digital Badge
PDF & 3.5+ Hrs HD Videos
Stealth Cyber Operator [CSCO]
CSCO, more than a course, is intensive training. You become a stealthy cyber operator, mastering techniques that enable you to operate covertly and undetected in a hardened environment.
Highlighted Benefits:
2 Exam Attempt + Digital Badge
250+ Pages PDF & Recorded Videos
Recorded Live Sessions [3 live sessions/4 hrs each]
The Value You Will Acquire
The Red Team Certification Path offers a wealth of knowledge and experience that is highly sought after in the cyber security course industry. Here's what you'll gain:
In-Depth Knowledge:
Each certification covers specific domains, providing you with comprehensive expertise in various aspects of red teaming and cyberattacks.
Real-World Skills:
Practical exercises and hands-on labs ensure you can apply your knowledge in real-world scenarios. You'll be well-prepared to face actual cyber threats.
Career Advancement:
Red team professionals are in high demand. Earning these certifications enhances your resume and opens up numerous career opportunities.
Certification Procedure
The certification process typically involves coursework, practical exams, and sometimes a final assessment. Each course has its own certification procedure, but they all follow a similar structure:
Enroll:
Begin your journey by enrolling in the course of your choice.
Study Materials:
Access premium study materials and resources.
Practice Labs:
Gain hands-on experience through practical exercises.
Examinations:
Complete course-specific exams to demonstrate your knowledge and skills.
Certification:
Upon successful completion, you'll receive your official certification.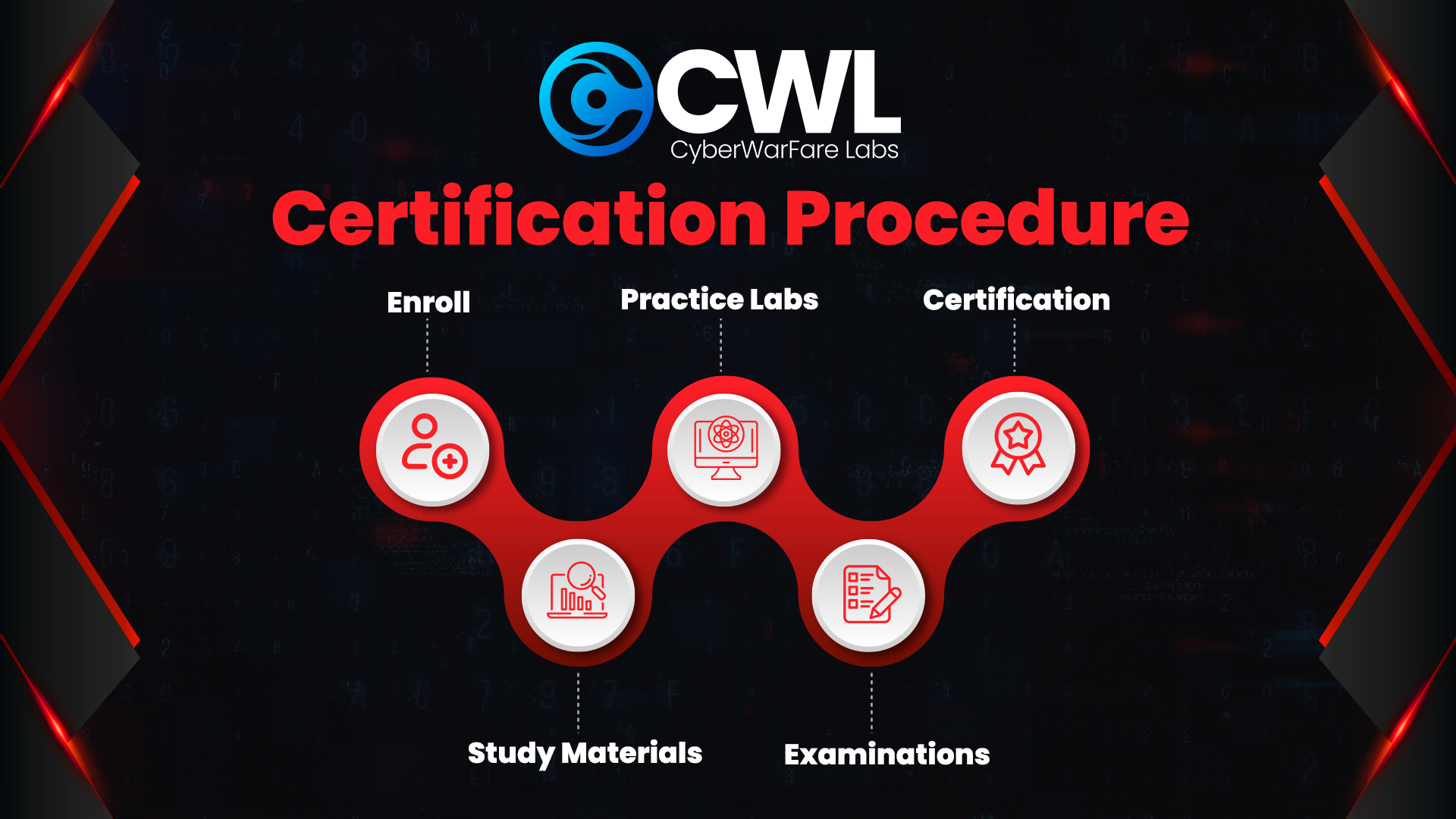 Conclusion
The Red Team Certification Path is your ticket to becoming a cyber security expert. Whether you're just starting or looking to advance your career in cyber security, these certifications offer invaluable knowledge and practical experience. Embrace the challenge, enhance your skills, and join the ranks of cybersecurity professionals defending our digital world.
Start your journey today, and empower yourself with the tools and knowledge to combat cyber threats effectively.
In the realm of cyber security courses, it's not just about learning – it's about taking action. Become a certified red team cyber security certifications professional, and make a difference in the world of online security.